BIOGRAPHY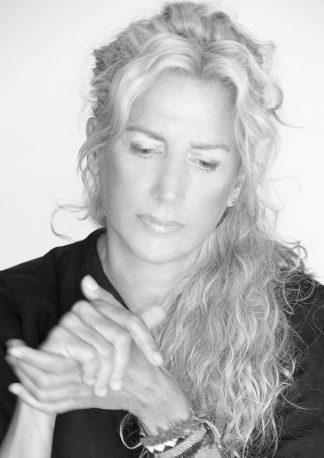 Venia Dimitrakopoulou was born in Athens, Greece. She studied Sculpture at the Athens School of Fine Arts, and the Athens Conservatoire Drama School. She also attended drawing classes at Atelier Vivant of Ecole Nationale Supérieure des Beaux- Arts (ENSBA).
Venia lives and works in Athens and in Aegina island, Greece. She is a member of the Chamber of Fine Arts of Greece (EETE).
Working with a wide variety of materials and artistic media, Dimitrakopoulou explores various aspects of expression through art. She seeks to combine visual arts with music and dramatic movement, to unite narrative and conceptual ideas and move senses and the act of thinking.
She has presented her work in solo exhibitions and she has participated in group exhibitions in Greece and abroad. Her work is partly located to public spaces as well as to private collections in Greece and abroad.
In 2014 the book Venia Dimitrakopoulou. Promahones was published by Hatje Cantz publications, a publication which focuses on her large-scale sculpture Promahones, that was presented at the Benaki Museum in Athens during the winter of 2014-2015.
Since 2016, this public sculpture has been installed at the garden of the National Archaeological Museum of Athens.
In November 2015, she presented her artistic activity and work in Venice, in the context of Biennale Sessions of the Venice Biennial 2015.
In 2016, one of her drawings was selected to become the cover of the revised publication of Mario Vitti's History of Modern Greek Literature (Cafoscarina publications, Venice). In the April of the same year, she has presented Selected works, her first personal show in Italy, at Artespressione gallery (curated by Charis Kanellopoulou and Matteo Pacini).
She participates in the working group of Tempo Forte, a cultural initiative of the Ambassador of Italy in Greece, that promotes in an intergovernmental level the cultural dialogue and the establishment of common aspects of the identity of the two countries.
In the framework of this program, Venia Dimitrakopoulou has presented a series of successive personal exhibitions, organized by the Hellenic Foundation for Culture and in collaboration with the Artespressione Gallery (Milan) entitled Primordial Future at the cities of Palermo, Archeological Museum of Palermo « Antonino Salinas», Turin, Gallery della Fondazione Sandretto Re Rebaudengo and Trieste, Sartorio Museum and Castello Di San Giusto, from November 2018 till June 2019. Upon this occasion, a catalogue by Umberto Allemandi has been published.
Ιn January 2017 the president of the Italian Republic, Sergio Mattarella has given her the title of Knight of the Order The Merit of the Italian Republic, "in recognition of her contribution, through her artistic work, in creating bonds with Italy, a country with which she feels significantly connected".