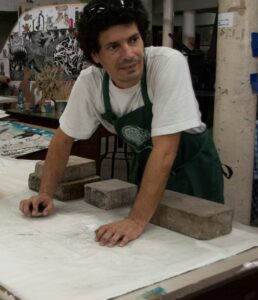 Alejandro R.SAINZ
HAVANA, CUBA
1961
ART STUDIES
Graduated from the Fine Arts Academy of San Alejandro, Cuba, in 1985.
Graduated from the School of Design of Cuba, with a major in International Graphic Design in 1991.
AWARDS
Awarded 1st price on the category sculptures and 3rd price on the category printmaking at the Fair Fest @ Doral – Miami, USA.
PUBLICATIONS
En 2016, Alejandro R.SAINZ participated to the Book Arts Program from the University of Alabama, USA.
His paintings and drawings have been used in several publications which are now part of private collections, such as "Almendrones", "Poder" and "Catch & Release".
EXPOSITIONS  
Throughout his artistic career he has participated in hundreds of collective and personal
expositions in Cuba, the USA, South America.
Today, Alejandro is an artist en residence in the Graphic Arts experimental workshop of Havana.